Well scrape the barnacles off me rudder, it's me fav day of the year! International Talk Like a Pirate Day is September 19th.
To honour International Talk Like a Pirate day, I'll be serving free mugs of scurvy for anyone who'd like to scrub me kitchen decks!! Yarr!
And if you don't know what all the eye patch wearing fuss is about then pop across to http://www.talklikeapirate.com/and get into the rum spirits of things!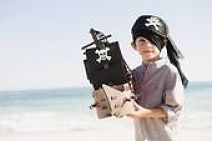 I'm particularly taken with the chance to nab me own pirate with such choice pick up lines featured on the site as . . .
"Come on up and see me urchins . . ."  and  "How'd you like to scrape the barnacles off of me rudder?"
Happy plank twerking today me hearties!
Catch you on the next wave,
The Coast Writer.
The Coast Writer is Andrea Rowe, a content crafter, copywriter and communications specialist. Owner of a boutique PR and copywriting business which helps clients find the right words to tell their story and make connections, Andrea is a sand-between-the-toes kind of gal. Row your dinghy over to

www.yourcoastalconnection.com.au

or call out Ahoy there on Twitter, Facebook, LinkedIn, Google Plus or Instagram. 
Google+